Down To Earth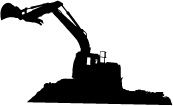 Whether it's a downtown mega-structure surrounded on all sides or a row house that needs to be cherry-picked from its place, demolition often requires surgical-like workmanship. At CD Hall Construction, our demolition team provides precision, speed, and safety as you make way for the future.
We are fully licensed, bonded, and insured, and skilled in handling hazardous material like asbestos. By partnering with some of the industry's top environmental specialists, we deliver quality work without compromising our first priority: safety.
Our full range of demolition services include:
Building demolition

Industrial and commercial demolition

Dismantlement/precision removal

Selective demolition

Emergency removals

Total plant and facility demolition

Silos and towers

Bridges

Onsite concrete crushing and recycling

Dust suppression

Site stabilization
At CD Hall Construction, we take great pride in our work and demolition is no exception. Through our exceptional safety record, expertly trained employees, and a fleet of specialized demolition equipment and attachments such as breakers, crushers, grapples, shears, and pulverizers, we are able to offer our clients the highest quality service, regardless of project size or budget. Give us a call today to discuss your demolition project needs.